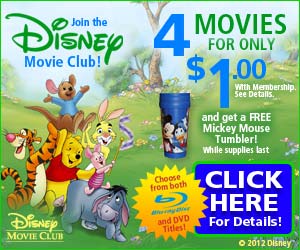 You will have to buy 5 Disney DVDs at $19.95 each within the next 24 months. That is a total of 9 Disney DVDs for $100.75. You will also have to pay $3.95 shipping per DVD (excluding the 4 for $1 deal), but if you order all 5 at once, you will pay just $11.49 shipping. That makes your final cost for 9 DVDs $112.15 or just $12.46 per DVD.
I have read many posts about whether the Disney Movie Club is worth it. And I have to tell you that WE ARE A PART OF IT! Here is where the REAL DEALS come in – once you have made your  5 purchases, you will get "specials"such as –
This is one I received a couple months ago -CARS2 2-disk pack for $24.95 (3.95 shipping & processing).  Which is about what it costs in the stores, but if you order it, you can take 60% off club prices on 3 more titles…Adding on another Cars2 DVD and two other DVDS for only $7.98 would make a great gifts! You see… so my thoughts are that this is worth it…
Here are a few of the movies you can choose from that are included in the 4 for $1 deal:
Tangled
Toy Story 3
Princess and the Frog
Up
Cars
Tron: Legacy
Gnomeo & Juliet
Aristocats
Mary Poppins
and about 30 more titles
I suggest you compare the prices of the movies you would purchase with other prices to see if this is the best deal for your budget.
If you are an existing Disney Movie Club member, I'd love to hear your opinion!
Post a Comment to Facebook!
comments
Powered by Facebook Comments