I have seen commercials and always wondered how well this knife works… well, with this hot dealz, you can find out, by getting this $100.00 knife for ONLY $3.00!!!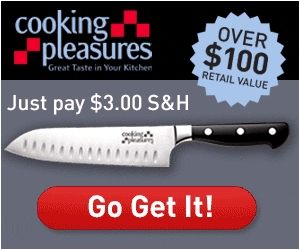 FREE Cooking Knife Get the all-purpose Santoku cooking knife FREE! Pay just $3.00 shipping and handling $100 total value! FREE Professional-Grade Chef's Knife! Get the Ultimate Santoku Style Cooking Knife FREE. Shipping and handling just $3.00! Satisfaction Guaranteed!
Click the 'GO GET IT' button above to place your order now!!
Post a Comment to Facebook!
comments
Powered by Facebook Comments