*Disclosure -Sponsored post by Lunchbox. All opinions are my own." More FTC regulations information below.
Today's kids are much different from the past. With TV, video games, and tablets in every room, it is important that as parents we remember the importance of turning off electronics and having children play outside. Playing outside not only gets kids the fresh air they need, it helps them unwind and actually use something some have forgotten to use; an imagination. Now, if your kids are anything like mine and would pout and hunch when turning off electronics I have a suggestion to make. Teach your child to ride a bike.
Ha, the light bulb just went off, right? It is so funny because I remember when I was a kid learning how to ride a bike was a rite of passage. Something I looked forward to for years… well, now is the time to show your kids how exciting and fun riding a bike can be. Here is a fun infographic from Schwinn on the key basics for biking with young riders.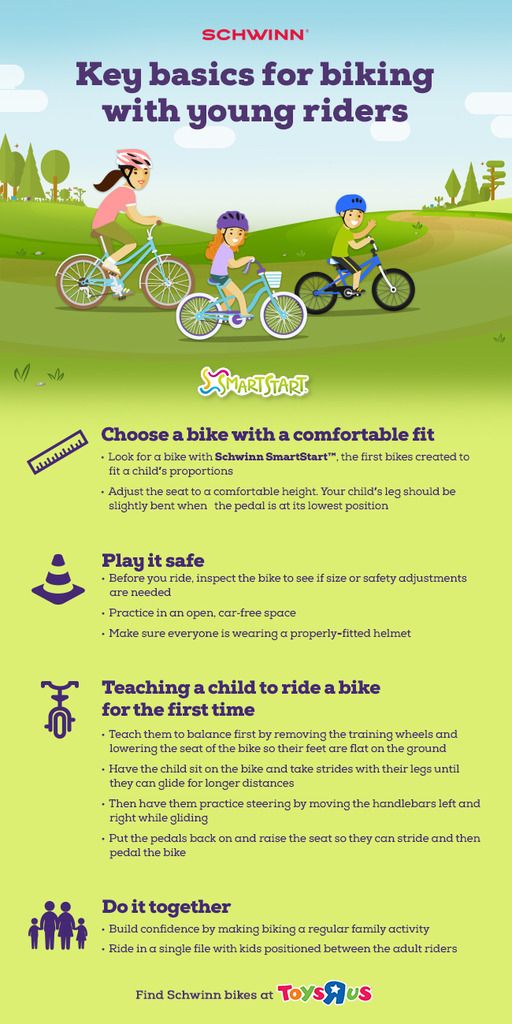 We partnered with Schwinn to help Little Miss ride her first bike and it has been such a wonderful experience. First off, if you are looking for a bike, you might want to start at Toys"R"Us since they have the largest selection of 16" bikes for kids and keep an eye out for Schwinn bikes, since they are the go-to resource for the recreational bike rider. Now, the Schwinn Jamboree SmartStart Girls 16″ Bike that we received from Toys"R"Us is just perfect for her. Not only is it her favorite color, which is purple, by the way, but it has an adorable handlebar basket up front, streamers, and flowers all over it. The single-speed bicycle has a coaster brake which is very simple for new riders and it offers an elongated seat which she says is very comfortable to sit it in.

I have to tell you that my Little Miss she was a bit nervous riding because she really does not like stepping out of her comfort zone and she had tried her brothers first bike once or twice, but the wobble scared her. So this was a big deal for her. Once Hubby got the tires on and adjusted the SmartStart seat, which by the way is pretty cool… you see, when a SmartStart is raised to fit a growing child, the distance from the seat to the handlebars increases. This increases the reach distance and will allow the bike to grow with them… cool, right?
Anyways, once we got the seat adjusted she jumped on, sat in the child-sized seat, and just smiled. Seems that our new Schwinn's SmartStart 16″ wheels offered her the stability she needed to feel better about the experience. She put her small hands over the perfectly shaped grips and slid her feet onto the pedals that are geometry matched width to a child's hip-width and she was off.

Of course, Hubby ran along side her for just a bit, but she really didn't need much help as it turns out the Schwinn Jamboree Girls 16″ Bike was all she needed to get the courage to ride. The Schwinn Jamboree SmartStart Bike is available at Toys"R"Us
Watch this short video on how to teach your child to ride a bike:
Want to teach your child to ride a bike with a $400 Family Fun ride prize pack?
Schwinn SmartStart Family Ride Sweepstakes

Post a Comment to Facebook!
comments
Powered by Facebook Comments